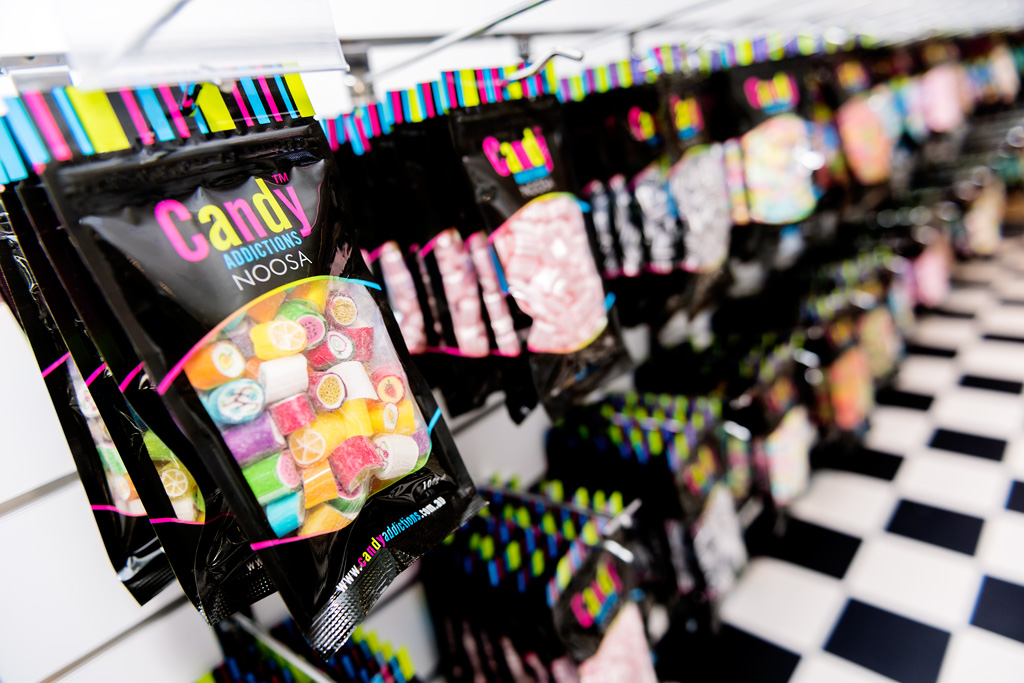 About Candy Addictions
In 2004, Don Hammond opened his first handmade rock candy concept in Montville, Sunshine Coast. His vision was to create Australia's highest quality rock candy products to satisfy the demands of both Australian and international clientele. With his 20 years experience in this field his expertise led him to train a number of companies internationally in the art of rock candy manufacturing.
After expanding a join project in China to include over 50 rock candy stores, Don returned and felt the need to expand the concept of Candy Addictions within Australia.
The Montville store was a closed in April 2017 and relocated to Noosa Heads, Queensland as this seemed like the perfect location to launch the current Candy Addictions concept.
Candy Addictions Noosa, now includes not only our famous handmade rock candy, but also manufactures gelato, fudge, milkshakes and stocks a huge range of fine chocolate products.
The new design of Candy Addictions Noosa will blow your mind. From the moment you enter, you are transported into a candy wonderland. Be mesmerized by the magnetic table of moving candy or by the three metre high chocolate fountain wall where you will be hypnotized by the flow of fine Belgium chocolate.
The whimsical displays highlight the vibrant colors, textures, eye-popping graphics, creative packaging, gorgeous patterns and distinctive shapes of candy.
Entertainment is the name of the game! Watch our confectioners work their magic as they create intricate candies. Feast your eyes on seeing candy being stretched and sculptured from one large 14 kg candy into 4,000 bite size pieces.
Then fill your basket  with your favourite rock candy including flavours such as strawberry, watermelon, musk or choose a chocolate filled candy delight.
Treat yourself to possibly the world's best milkshake! With hundreds of flavour combinations available, why not let your imagination tempt your tastebuds. Our funky milkshakes are Alice in Wonderland themed topped with fresh cream and fine rock candy.
Decedent gelato made on site using the finest local ingredients – come and spoil yourself with a minimum of 12 flavours available at any one time. Whether it be Ferrero Rocher, salted caramel, cookies and cream or fresh fruit sorbet, we are sure to have a flavour to tempt your taste buds.
For the adventurous, why not try the "Crazy Alice" – a waffle basket with your choice of three scoops of gelato, topped with fudge, rocky road, fresh cream, chocolate sauce and of course sprinkled with our famous handmade candy.
Who said lollipops don't grow from trees? They do at Candy Addictions – our three metre high lollipop tree is oozing with colourful delicious lollipops of all sizes ready for you to pick. From your old time favourite rosey apple to a tingly delight of raspberry lemonade fizz, large or small they are sure to put a smile on your face.
From the moment you enter the store the aroma of fine Belgium chocolate will take over your senses. Your eyes will be drawn to the 3-metre high chocolate fountain wall that needs to be seen to be believed.  With chocolate products ranging from fine handmade truffles to novelty chocolate gifts your options are endless.
If fudge is your thing… then we are your desire. Our cabinets are laden with fudges of all flavours ranging from sweet to salty and everything in between.  Made on site in small batches ensures our fudge is fresh, creamy and tastes divine.>